Daily Fish: From Deep Sea to Your Doorsteps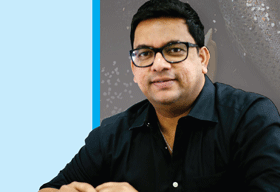 Baby Marine's Journey as a Global Market Player
In the past, India as a country used to supply frozen seafood products to re-processors, who then used to pack and sell it to the retailers. Identifying a major gap in the early 90's, Baby Marine decided to directly supply to the retailers, and started heavily investing in technology, procurement & processing. "Investing in technology was not cheap, it was very expensive. To stay ahead in the market, we had to upgrade our existing infrastructure," says Alex K Thomas, Chief Strategy Officer, Baby Marine Ventures & Managing Director, Daily Fish.
During 70-80s, BMV had freezers called the block-frozen freezer, also known as the contact freezer or plate freezer, where the freezing time of the product used to take minimum three hours. With time, because of the technological advancements and up-gradation, the same process was optimized to one hour freezing time, thereby increasing the overall efficiency of the process. Today, Baby Marine has acquired latest machinery and technology that freezes the products within minutes. It is called the IQF (Individually Quick Frozen) freezer. "Previously, you had to put 2kg of shrimps/fishes inside a container, add some quantity of water. Then, keep it inside a plate freezer, compress it, and then you used to get a solid ice-block of product," mentions Alex.
Seafood being fragile creatures, quality starts to deteriorate within minutes of being taken out of the water. Today, IQF innovative technology has changed the whole scenario in the food processing space where the major difference is that in the normal contact freezer and the freezing process happens very slowly. This affects the texture of the meat due to the crystal formation caused by irregular temperature maintenance. Where as in IQF, the freezing technology involves - 40-degree centigrade, air blast that is propelled from top and bottom, inevitably freezing the product quickly to a core temperature of - 18-degree centigrade in five to eight minutes. This traps the freshness, texture, and aroma infusing efficient cold-chain control and increases shelf-life of the product. Because, above 4.4-degree centigrade, the bacteria start to multiply and feeds on all the nutrients, minerals, proteins and essential oils. Therefore, freezing plays a crucial role in maintaining an efficient cold-chain system and Baby Marine has mastered the art.
Apart from adhering to technology as its core strength, Baby Marine strictly follows high standard food safety methodologies throughout the entire process, which includes right from procuring quality raw materials from the fisherman's to processing, packaging as per the requirement, ensuring thorough cold-chain control and exporting quality products. Baby Marine has carved a niche in the seafood space today. Their clients include big retail giants like Carrefour, Wal-Mart, Auchanand Metro Cash & Carry amongst others. Also, the company is accredited by BRC Food, Europian Commission, FDA, IFS Food, follows HACCP and other international certifications. Today, Baby Marine is one of the largest players in India that provides end-to-end procurement and sourcing services of frozen seafood products to retail giants across geographies.
A Visit to Your Local Grocery Store is Not Fishy at All!
If we look at the Indian market in terms of seafood, the potential is huge. But by default, the cold-chain mechanism is flawed towards extremities. "There is a misconception that exists among people, where they think that all fishes come from the nearby coasts, which is not the case! Because, if you want the best white pomfrets; it has to come from Gujarat. If you want the best mackerels, it has to come from Mangalore or Kerala. If you want the world's best flower shrimps, it has to come from Mandapam, Tamil Nadu," says Alex.
On a knife-edge, if we carefully observe the current cold-chain seafood delivery mechanism, the vendor goes to the main hubs, where different fishes are consolidated and transferred into the delivery vans, which again is going to sub-hubs, different markets, multiple locations, so on and so forth. "I guarantee you, the cold-chain from your deep sea to your doorsteps is compromised at many stages," asserts Alex.
Another common notion while visiting a retail store is that 'if the fish is kept on top of the ice and is shining light - the fish is fresh!' Well, again people have been blinded. Throwing light, Alex quips "Right from our childhood days, we have learned that cold travels down and heat travels up. So, if we put fish on top of ice, it'll not penetrate inside, it is actually inducing downwards. If at all it has to be kept in ice, the fish has to be covered. And, if it is covered, one cannot choose the fish they want to buy."
He further adds "Also, we hear in the market about these chemicals and preservatives like formalin and ammonia
being added to the products, which are poisonous (be it food grade or synthetic), which gives unrealistic shine. The truth is that a fisherman never puts such chemicals on their fish. Because, fisher men's risks their lives to catch the best quality fish, and will never think of committing such an act."
Daily Fish ensures to provide products that are sure to enhance the taste buds of the seafood enthusiasts like never before
Daily Fish - As Good as Live
Baby Marine Ventures has been in the industry for more than four decades now. The company knows its products much better than any other competitors in the market. "We are in this industry for more than 49 years now. We know our products, we source it directly from fishermen's, our factories are located close to the raw-material availability, we have some of the latest technology and machinery enhancing the overall process, we follow international standard-good hygiene practices where we guarantee food safety at every stage, and our state-of-the-art cold-chain methodologies has helped us cater to some of the big retailers across the globe. This summarizes everything," asserts Alex.
Writing a new chapter, in 2016, Baby Marine Ventures decided to take the next big step by catering the same international quality service to consumers in India. This was the start of first of its kind seafood delivery platform called the Daily Fish, a brand created by BMV to provide uninterrupted cold-chain delivery system from the deep sea to customer doorsteps. Successful in achieving the same, Alex says, "We didn't start this just to follow the trend of eCommerce".
When a customer buys frozen products from a modern retail store, the cold-chain control passes on to the customer. "Pray that the customer goes directly to his/her home," gags Alex. Because, any frozen product that goes through inconsistent temperature, the quality is compromised. Especially, seafood being so delicate, the quality, only starts to deteriorate with time. So, in order to minimize inefficiencies in the cold-chain mechanism, BMV ventured into creating first of its kind platform (www.dailyfish.in) that delivers products directly from the deep sea to customer's doorsteps.
Once the product reaches the customer, either they can cook it immediately or can keep it in the freezer. And, every packet of Daily Fish products comes with instructions on how to thaw the frozen product to further ensure quality of the meat is preserved. So that the customers can taste the seafood, which is as good as live.
Hassle-free Seafood Delivery on the Go
Today, the Daily Fish is available on eCommerce (Magento), mobile application platform (iOS & Android), and call centre options. More than anything, the platform and service offer a wide variety of choices to the seafood lovers and easy payment options. Daily Fish include wide array of products right from fresh sea fishes to Calamari, Shrimps, Crabs, and other exotic seafood meat, which can be turned into tasty, mouth-watering delicacies. Daily Fish ensures to provide products that are sure to enhance the taste buds of the seafood enthusiasts like never before.
Daily Fish is in fact India's first deep sea to door step cold chain company. There are 3 convenient delivery slots per day where customers can place orders online on the secured site www.dailyfish.in, Daily Fish India app or through the call centre (8 Am to 8 PM). Daily Fish sale extends all across entire Kerala, Mangalore, Bangalore and Coorg.
Entering God's Own Country – Expanding across India
Daily Fish entered the market the hard way. On February 2016, the company decided to launch its operation from Kerala. Needless to say, 'A Malayali knows their fish better than anyone else in the world', and it's a known fact. Initially, people were a little reluctant when it came to consuming frozen products, but with time, noticing a huge difference in taste, freshness, texture, aroma, and the overall quality of the product. At present, Daily Fish products has become Kerala's all-time favourite. "We are Kerala's number one company today," mentions Alex.
Smitten by the popularity, Daily Fish is slowly expanding its service across India. The company, which is at an expansion phase at the moment, has already started providing services in Karnataka (Bangalore & Mysore), Tamil Nadu, Andhra Pradesh, and others southern parts of India. Also, Daily Fish has started catering its services to many restaurants in Kerala & Bangalore. "We have plans to expand our operations in top 10 towns in South India. Additional storage hubs are planned in Coimbatore, Chennai, Bangalore and Hyderabad. By March 2019, we will become a household name in 100 percent end to end cold chain for retail segment," mentions Rajesh S, VP – Sales, Daily Fish.
Customer adaptability being the prime focus, Daily Fish is on its way to concur the market soon. "We started in a traditional market, we set-up our processes right. We tested the market, on how people perceive our product. We did a lot of testing to get away with the mind-block that the 'Frozen is actually fresh,''Fresh is not fresh unless it is fresh from the core'," concludes Alex, on a positive note.
Alex K Thomas, Managing Director, Daily Fish
Alex runs the show at Daily Fish. He is also a Chief Strategy Officer at Baby Marine Ventures. He was nominated as the Managing Director and CEO for this new venture - Daily Fish (Baby Marine Seafood Retail Pvt. Ltd).
Alex, who is on a mission to change the perspective of people in the industry, has an interesting genesis.
In 1996, Alex joined the family business Baby Marine Ventures. He is a Medical school dropout. "It was a campus interview, where my dad pulled me out of college and made me the CEO in one of the factories," jokingly says Alex.
In 2005, the factory was sold to the American-based company called the Philips Foods, which is one of the world largest Crab meat producers. So, Alex decided to continue for a year or two, where he became the Managing Director (India) at Philips Foods. "That was the company, one could only dream of working," mentions Alex.
As time progressed, he continued working there for almost six years. In 2011, Alex decided to come back to the family business. His international experience and exposure has been a game changer for Baby Marine Ventures which has transited from being a family concern to professional corporate, scaling new verticals in global seafood industry. Today, Daily Fish is a brain child of Alex.
The School of Baby Marine Enterprise – Team Daily Fish
Key Management: Baby Marine Ventures
• K C Babu& KC Thomas, Co-Founders & Presidents
• Jacob K Babu, CEO, Baby Marine Ventures
• Alex K. Thomas, Chief Strategy Officer
• Alex K Babu, Chief Investment Officer
• Anush K. Thomas, Senior Director, Sales and Marketing
Team Daily Fish
With robust experience in procurement, processing, exporting for more than four decades now, Baby Marine Ventures Brand Daily Fish is a classic example of how a company can grow to a whole new level and create an impact in the foodtech space. The core team of Daily Fish consists of eminent people, who have worked previously in various top management levels, across industries. The work culture in terms of quality, innovation, and training of employees starts at the grass-roots level. Daily Fish incorporates quality right from the fisherman catching the fresh-catch to the delivery man transporting seafood-products at customer's doorsteps.
Daily Fish's Delivery Mechanism
• Daily Fish's Delivery bags are custom designed and tested to withstand temperature up to five hours.
• A five-hour thermal efficiency study for their delivery bag design is tested and verified by CIFT (Central Institute of Fisheries Technology)
• This is why they have Delivery Slots for 2.5 hours and even in case of a delayed delivery, their bags can withstand the delayed time.
• In addition to this, every Delivery Bag is numbered and checked for temperature withstanding capability with specially imported 'Temperature Recorders'
Daily Fish - Quality Policy
• If the Fish you tasted is not up to your standard, Daily Fish will replace the product or refund cash or credit the amount to your Fish Wallet.
• At Daily Fish, they have a 24 hour 'No Questions asked' Policy.