CoWrks and its Coworkers formed an Unusual Startup Atmosphere with their First Cohort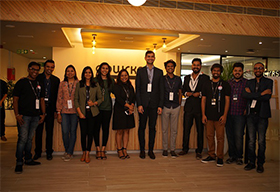 The CoWrks Foundry is an initiative by CoWrks, one of India's premier incubation providers for start-ups. The program is designed to nurture early-stage startups in the fields of Urban Tech, Enterprise Tech, and Social Impact Enterprise, through a rigorous interdisciplinary curriculum, designed by industry veterans & experts. The Foundry's well-structured framework nurtures durable and scalable businesses by investing in the ideas and minds behind them.
Nruthya Madappa, Managing Partner, The Cowrks Foundry said "Despite the start-up growth spurt in India, businesses in the Urban Tech, Enterprise Tech and Social Enterprise space, lack the guidance to overcome unique challenges. The CoWrks Foundry is our answer to India's fractured entrepreneurial ecosystem. In comparison to the sturdy framework and incredible support afforded to thriving startups in Israel, Shanghai and Singapore, India lags far behind. Therefore, it has been our endeavor to provide them with world-class mentorship and expertise, technology and infrastructure support, as well as access to investors and customers so they can scale from idea to execution at an accelerated speed. It has been a grueling yet amazing journey so far, with like-minded peers interacting and learning from The CoWrks Foundry panel, mentors and each other."
Out of the 350+ startups that applied to the program from across the country, some even international, the final five that were selected to be a part of the accelerator are Ayasta, Betterly, T-Scale Hub, Understand Better and Wagonfly. These companies were assisted with everything from initial seed capital and client acquisition to the art of crafting a stellar pitch.
Ravi Teja Avasarala, Cofounder, Ayasta said, "What drew us to the Foundry was the team behind it. They have an inherent understanding of what startups need in order to succeed and what sort of help is required at various stages. I can say without a shadow of a doubt that during the program, the Foundry team worked harder on solving our problems than we did. The networks we got access to would be invaluable to us in our journey. Foundry put in the effort to understanding our Ayasta's offerings and then helped remove our biases by identifying where we are underselling ourselves. The Foundry program made us better founders which would eventually lead us to become successful entrepreneurs."
The 24-week intensive program concluded with a Demo Day on November 14. These 5 startups had the opportunity to pitch their products, ideas and business models to venture capitalists, and prominent industry leaders at the city's newest entrepreneurial hub - CoWrks Koramangala. In order to fuel entrepreneurship and create an environment where innovators and companies thrive, The Foundry also invited applications from the startups housed within the CoWrks community to pitch on the Demo Day.
Apart from providing an initial influx of smart seed capital of up to $30K, The Foundry has been instrumental in facilitating home-grown businesses with a solid foundation and resources required to fully equip, refine and fortify their companies.
CoWrks is India's largest and fastest growing large-format coworking space provider
Situated within CoWrks' headquartered in Bangalore, the startups in The Foundry have been able to access premium workspaces within CoWrks, and the opportunity to work alongside a carefully monitored community of startups, freelancers and large enterprises. Each of the 5 startups was assigned dedicated mentors and experts from relevant industries to provide the required coaching and guidance.
As a part of its post-program support, The Foundry will continue to aid these start-ups in terms of mentorship and guidance.
Further to the success of the first cohort, The CoWrks Foundry is inviting applications for the second one by the end of November 2018. The 24 week-long program at the state-of-the-art CoWrks Millenia office in Bangalore will commence in January 2019.
Startups Graduated from the First Cohort:
Ayasta
With a combination of sensors, ML & CV, Ayasta ascertains deterioration, predicts faults and impending risk within a facility and in the external electrical grid.
Betterly
Betterly is an anonymous, personalised and economical, tech-enabled platform to address mental health issues. With certified professional counsellors and psychotherapists through text, audio and chat, you won't ever feel alone.
T-Scale Hub
T-Scale Hub is a community and platform for architects and vendors where firms can review the work of desirable candidates by paying a subscription fee and vendors can advertise their products & services to the architecture community, generating additional revenue.
Understand Better
Understand Better manages people intelligently with an AI powered HR solution that provides customized, contextual solutions for employee engagement.
Wagonly
Wagonfly is a single stop, cashless, queue less solution for brick and mortar stores. Bringing online checkout experience in offline stores. Solving the last mile supply chain issue in retail stores currently handicapped with manual barcode scanning leading to product dropouts & long queues.