ZEE5 and OYO join hands to Delight the Traveler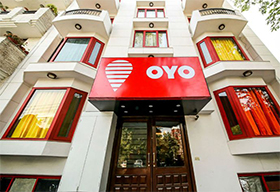 OYO Hotels & Homes will offer their customers a flat 20% discount on a ZEE5 subscription. Similarly, ZEE5 subscribers will enjoy a flat 60% discount on booking rooms via OYO, with an additional 5% off for OYO wizard members. This phenomenal offer is valid till 15th January 2019.
Manish Aggarwal, Business Head, ZEE5 India, said, "The travel industry in India is growing exponentially and people are consuming content when on the go. Taking a cue from this, ZEE5 has partnered with OYO Rooms to provide seamless entertainment options to travellers. Our exhaustive library has content across six languages and multiple genres to suit the travel preference of travellers, regardless of their age and background. With aggressive tie-ups in the travel space, ZEE5 aims to create a multitude of opportunities that enhance customer experience and value and this partnership with OYO Rooms is another step in that direction."
Speaking on the partnership, Burhanuddin Pithawala, Vice President, Conversions, OYO Hotels & Homes, commented,"At OYO, we thrive on a customer-centric approach to innovation, and our partnership with ZEE5 brings alive our shared passion for delighting our customers. Through this partnership, we are excited to offer the ZEE5 entertainment experience to all our valued customers, and extend the OYO hospitality experience to all the subscribers of ZEE5."
Recently, ZEE5 has also tied up with MakeMyTrip & RailYatri to give an impetus to its rapidly growing user base and make commuting more engaging
Recently, ZEE5 has also tied up with MakeMyTrip & RailYatri to give an impetus to its rapidly growing user base and make commuting more engaging.
With over 3500 films, 500+ TV shows, 4000+ music videos, 35+ theatre plays and 90+ LIVE TV Channels across 12 languages, ZEE5 truly presents a blend of unrivalled content offering for its viewers across the nation. With ZEE5, the global content of Zindagi as a brand, which was widely appreciated across the country, has also been brought back for its loyal viewers.
About ZEE5
ZEE5 is the digital entertainment destination launched by Zee Entertainment Enterprises Limited (ZEEL), a global Media and Entertainment powerhouse. With content across 12 languages like English, Hindi, Bengali, Malayalam, Tamil, Telugu, Kannada, Marathi, Oriya, Bhojpuri, Gujarati & Punjabi, ZEE5 is home to 1 lakh hours of On Demand Content and 90+ live TV channels. The platform brings together the best of Originals, Indian and International Movies and TV Shows, Music, Kids content, Cineplays, Live TV and Health and Lifestyle content all in one single destination. ZEE5 offers groundbreaking features like 11 navigational languages, content download option, seamless video playback and Voice Search.
About ZEEL
Zee Entertainment Enterprises Ltd. (ZEE) is a worldwide media brand offering entertainment content to diverse audiences. With a presence in over 173 countries and a reach of more than 1.4 billion people around the globe, ZEEL is among the largest global content companies across genres, languages, and platforms.
ZEE is present across broadcasting, movies, music, digital, live entertainment and theatre businesses, both within India and overseas. ZEE has more than 250,000 hours of television content and houses the world's largest Hindi film library with rights to more than 4,200 movie titles across various languages. ZEE has also produced several movies for theatrical release and is the fastest growing music label in India.