Rich and good ambiance, both at home and work, have considerably contributed to enhanced mood settings and high levels of productivity, which is why there is a rapid and ongoing increase in interest in living a highend lifestyle. A robust interior design sector is developing as a result of the large scope of advancements and breakthroughs and the quick pace shift. In India, the market for interior design was valued at USD 23.2 billion in 2020, and it is anticipated to reach USD 38.2 billion by 2027.
Brintext was founded in 2015 with the intention of revolutionizing Hyderabad's residential interior design market, by offering highclass interiors at the most affordable costs. The design concepts and operational procedures used by Brintext are completely distinct from those of the competitor brands. Since the company strives to design a home that truly reflects the owners' personalities and aesthetic preferences, it offers a wide variety of customizable options for clients to choose from. "When we first joined forces in 2015, we were aware that Hyderabad's interior spaces, in particular, would undergo a significant transformation because they lacked a sense of modernity and were not technologically advanced. We, therefore, sought to alter the way things are done in Hyderabad by introducing new designs and technological possibilities," speaks Konark Wadhwa, Founder, Brintext.
Brintext specializes in designing residential spaces and handles the full project execution process by offering complete home design solutions including space planning, modular
furniture(such as ward robes, kitchens, and other cabinets), interior design, project management, furnishing, and decor, and more.
"We have two well known tags Brintext and Decor Anthem. Brintext, stands for bricks, interiors, and exteriors, and it describes what we offer for residential spaces, including end-to-end interior design, home decor, artifacts, balcony setups, and furnishing. Decor anthem is our YouTube channel via which we communicate to audiences all across the country and the world about what we do by posting home tour videos of the residential spaces designed by us," speaks Sahiba Wadhwa, Co-Founder, Brintext. The firm believes that ambiance and furniture have a huge connection, and harmony between these attributes brings homeowners a sense of peace, positivity, and belonging. Brintext utilizes themes, such as modern, bohemian, or classical themes, when designing any home area. The designers don't just wing it instead, they consider all the many themes for that setting to give it a more personalized feel.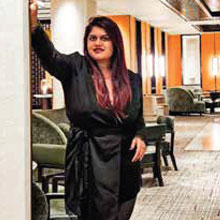 Sahiba Wadhwa, Co-Founder
Brintext focuses on what customers truly want to see when they go home since they believe that personalization is something that many designers do not offer but is an essential component of home design. While many architects and interior designers simply fill the space because they believed they could do a lot with it, Brintext believes in the principle of "less is more". Due to its portfolio of creative and distinctive designs that set it apart from other market players, Brintext has garnered a lot of attention since its inception. The company's end-to end offerings and extremely unique aesthetics are additional factors that contribute to its stellar reputation in the market. Some of its USPs includes personalized home decor, top class modular fittings, and a plethora of customized options to suit homeowners' taste at the most competitive prices in the market.
The firm has recently launched a new brand called WOS (World of Storage) which is a platform where designers and architects can buy readymade or can custom make cabinets as per their needs. Currently, the firm is operational in four cities, including Hyderabad, Tirupati, Vijaywada, and Vizag, and has completed more than 550 projects in Hyderabad itself. Brintext plans to expand to more locations over the next few years.