Role Of Technology In Exhibitions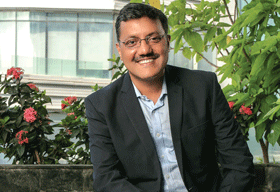 Mumbai headquartered UBM India is a leading exhibition organizer that provides the industry with platforms that bring together buyers and sellers from around the world.
All the current numbers and developments indicate that India is going to become one of the largest growth engines in the world by 2030. Fuelled by factors like increasing urbanisation, surging consumption powers and demographic potential, the Indian engine has become an unstoppable global force. Coupled with government incentives and technological advancements, India has become a true force to reckon with, competing with economic powerhouses like China and the U.S.
For any economy to tread the path of growth, it is imperative to give its business and trade a sustainable platform for exchange of ideas and knowledge sharing for integration with other global economies. It is only through constant communication and knowledge enhancement that India can continue to be at par with other leading world economies. In this context, the role of trade exhibitions and fairs in powering the Indian growth story cannot be emphasised enough. By giving a platform of trade to even the most indigenous industries, exhibitions drive national prosperity by encouraging business growth, investment opportunities, driving innovations and creating jobs in allied sectors like tourism.
Propelled by technological advancements, the exhibition industry world over has undergone a complete transformation. With its basic premise remaining the same-to meet face to face and forge lasting business relationships through education and knowledge sharing, embracement of digital technology in various aspects of the exhibition industry has catapulted the experience of all stakeholders involved to another level of expectations and satisfaction.
Streamlined Processes
Planning of trade exhibitions is now exceedingly streamlined with the use of beacon technology and software apps with features like live polling, Q&A functions, online surveys, virtual suggestion boxes, online registration and targeted networking. Beacon technology allows to organizers gather information on the number of people at the event, in real-time, allowing users to connect and exchange contact details with minimum effort.(1)Application of technology to gather data before and during the event has enabled analysis of attendee behaviour and expectations, all which contribute to improve subsequent exhibitions, calculate ROI, and measure the event's success.
With a repository of user information and details about preferences and requirements at their behest, organisers can now devise a more targeted approach when planning an exhibition. Gone are the days of outdated brochures mailed at random to exhibitors and visitors, often sent back as 'unopened'. Even in India, with its diverse and large group of visitors, the group which still prefers being invited via brochures, are slowly but surely adapting to new technological methods. It is now possible to reach out to a much larger number of potential attendees at the click of a button through email correspondence, leading to a more meaningful and dynamic environment at the exhibition.
Taregeted Approach and Personal Experience
Working towards the end of a meaningful environment, exhibition organisers no longer
view the crowd at their event as passive attendees, but treat them as active participants. Today's exhibition participants are part of a hyperlinked community that extend far beyond the exhibition's four walls.

Technology has made it possible for exhibition organisers to customise the content and experience at an exhibition to fit the requirement of the targeted demographic. Today it is not enough just to have industry experts and speakers at the exhibition; technology has made it possible to create a more personal experience, by delivering content led by the needs of the attendees, lending "stickiness" to exhibition seminars and key note deliveries. Creating a more immersive and an engaging platform, technology has made possible a seamless experience for both the exhibitors and the visitors. With the integration of innovative technology, visitors come away with valuable new knowledge, access to expertise and new connections. Exhibitors on the other hand come away with greater leads and opportunities.

Intelligent Technology
Simple technological provisions like that of wi-fi and power plugs at exhibition venue, enables exhibitors to push their limits and showcase products via virtual reality, use television screens to show interactive videos and demonstrate products on ipad, steps which extracts maximum technological benefit with minimum investment requirements. With use of intelligent technology attendees remain engaged for a longer time and are more likely to become return visitors.

In its most sophisticated form, technological innovations like Augmented Reality(AR)and Virtual Trade Shows have blurred the lines between the two worlds of reality and digital landscape giving the attendees an experience which sticks with them for long after the exhibition is over. An interactive dimension gets added to exhibitions when AR is used to link images around the exhibition venue and displayed in the form of graphic, video or other virtual information for the attendees to view. Though relatively new and still evolving, this technological genius has the capability of transforming event spaces into unique and interactive experiences, and attracting enormous footfalls.

Virtual trade shows have made it possible for buyers, exhibitors and organisers to collaborate more often and more closely, by eliminating the need to physically travel for the increasing numbers of exhibitions being organised all over the world. As the name suggests, here exhibitions are organised in a virtual exhibition hall with virtual booths which attendees enter only after requisite permission and capabilities. Similar to physical exhibitions in essence, virtual trade shows too allow for knowledge sharing through web conferences and webinars. The need for a physical meeting is met through live interactions on several levels (one-to-one, one-to-few, one-to-many and many-to-many) and simultaneously.

Mobile Applications
Use of intelligent innovations in mobile technology and advanced floor plan technology allows for flawless match-making, data capture and event navigation, without which there would be a horde of clueless and wandering visitors and increasingly frustrated exhibitors, wasting their time meeting with people who did not meet their objective. No longer do attendees depend on random product discoveries but use mobile applications to pre plan meetings with potential business partners and "break the ice" before meeting face-to face. A prior knowledge of event and seminar schedule through apps leads to considerable time saving for the visitors.

Audio-Visual Equipments
Use of latest audio visual equipments and technology walls to record and play seminars, videos and interviews help create time lapse videos, available to attendees to watch at their convenience. Live streaming across different exhibition centres through state of the art equipments helps forge remote links and associations.

Social Media Technology
Live streaming on various social media platforms like Facebook and Instagram, lend an air of immediacy to exhibitions. Digital marketing via mobile apps and social media platforms creates a powerful connection between the exhibitor and the audience, generating excitement before the event begins, resulting in an increase in footfalls on the day of the event.

Today, application of information technology has bought in efficiencies, enhanced productivity, reduced cost and streamlined processes across various aspects of exhibition planning. In this era of synergies between operations and technology, it is almost impossible to separate the two. Information technology paves the way for innovation; which in turn is must for a sustainable eco system. Technology at an event is not about people going about with their gazes fixed to their mobiles and on the display screen, it is about cutting through the noise to focus on immediate requirement in an efficient, timely and a cost effective manner. Going forward, it is the responsibility of exhibition organizers and planners to deploy the best available technology in the correct manner for their success and that of the exhibitors and the attendees.

Technology is the way through which all the stakeholders in a trade exhibition can transcend the path from good to great.