Home Decor Start-ups: Creating an Abode of Aesthetic Experiences & Lifestyle Space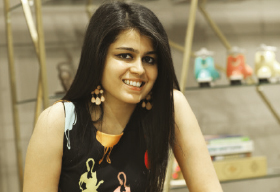 My inspiration for Home decor arose with the void I felt in my living spaces. I felt that my surroundings were either incomplete or not done well enough to be comfortable with. Somewhere or the other, it was a mismatch! This thought lingered and then turned into deliberation between me and my father, Mr. Neeraj Jain. Together we came up with Bent Chair, a home decor brand that filled the void I felt around me and hoped that those creations will be a part of a bigger picture where people can also use these products and make their living spaces complete. Â
While I built an empire on home decor, I learned more and more every day. I reinvented myself as well as the designs around me. I noticed how home decor is the same as our wardrobe collection and we tend to change and switch with the trends around us and the times that we are living in. However, a few things I could gather being in the industry are the things I believe everyone must keep in mind before redecorating their living spaces.
Some of the timeless home decor trends I can count on my fingertips are listed as below-
Accent Color
Seasons come bearing countless new trends and those trends brings new colors to the table and we can't deny our rooms need a little tinge of color that pops out. So, rather than buying an expensive hot pink couch or painting your room aquamarine, opt for home decor accents or accessories that are colorful and braced with accent shades, such as pillows, vases, or paintings. It is easier to swap them out every season if you need a little change. And you know what they say? Change is the only constant!
There are multitudes of steps that could be taken up to re-decorate or re-invent your living space and make them beautiful
Functional Furniture
As chic as that angular chair with a bucket seat looks in the magazine, don't buy something on which you can't comfortably sit. The same goes for glass coffee tables (too much potential for breakage) and shelves with no space. Buy home decor items that are meant to be used, not just admired from afar.
Comfort
How goes function, so goes comfort. It is a crucial element to be factored while purchasing furniture. You can't categorize anything as timeless if you have to replace it or chuck it out because it is not comfortable and you cannot relax on it. Always go for something that looks good and feels good too.
Natural Lighting
If you need to buy window coverings, choose window treatments that let in the most light. Where there is minimal natural light, invest in high-quality lighting options that give your space a natural-looking glow.
Durability
When it comes to home decor, it's often better to splurge on something that will stand the test of time rather than something trendy, yet poorly made. You'll end up spending the same amount on several low-cost, low-quality items versus one well-made piece. Again, shop wisely.
Warm Tones
Shades like caramel, plum and ochre are all timeless because they warm up your space. Whether you paint a room in a warm tone or stock up on accents in those shades, your home will look chic and cozy, regardless of the latest trends.
Shades of Gray
Talk about home decor or talk about fashion, gray just does not seem to ever fade away. Take a note as it may prove to be a very good color choice to decorate your living spaces. From slate to gray with tinges of blue and milder shades, it is a timeless choice that looks perfect everywhere.
Smart Stories
Use smart tactics to manage your storage representation and its design aesthetics in your house. From wrought iron hooks to classic bookshelves there's a lot that can be done to ensure you have a smart storage solution as well as the design is always in order. All of us desire an abode that is eye-catching and also serves all the comfort we need from it. There are multitudes of steps that could be taken up to re-decorate or re-invent your living space and make them beautiful. It could be your kitchen or a kid's room; it can still look attractive by a sprinkle of home decor.