Make in India: The Potential Startup Magnet for Defence Sector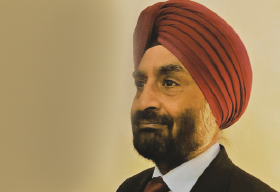 By Rajinder Singh Bhatia, President & CEO - Defence & Aerospace, Kalyani Group
India's Successful Start-up Story
Over the last 10 years, India has emerged as one of the largest start-up centres in the world. As per NASSCOM-Zinnov report 'Indian Start-Up Ecosystem – Traversing the Maturity Cycle - Edition 2017', India is now competing with Israel to be the 3rd largest start-up base, only behind USA and UK. While the USA is a clear outlier, Indian start-up ecosystem mirrors Israel and UK in terms of start-up landscape, unicorn analysis and investor ecosystem. As entrepreneurs explore untapped opportunities, the Indian start-up base is poised to grow exponentially to reach more than 10,000 start-ups by 2020, with verticals like Fintech, Healthtech, Edutech, Data Analytics, B2B Commerce and Artificial Intelligence leading the pack. Another promising aspect brought out by the NASSCOM-Zinnov report is the rise of significant base of start-ups building solutions for India centric grass root level problems. More than 300 start-ups are currently solving challenges in healthcare, education inclusion, financial inclusion, clean energy and agriculture. There has also been substantial rise in number of accelerators and incubators to provide strategic mentorships and other such support that they require. The Indian government too, has stepped up its support for start-ups, launching a special fund to invest in them as well as offering tax breaks and bureaucratic simplifications within the 'Start-up India' program.
However, one sector which remains conspicuous by its absence in India's phenomenal start-up success story is Defence and Aerospace. And this does not augur well for India's aspiration to become a leading power in a region where crisis is the new norm.
Defence Start-ups: Why a No-show?
Technology and innovation are the corner stone's of a vibrant defence ecosystem, and often rest in start-ups which are the hotbeds for nurturing them. Unfortunately, India is deficient in the start-ups for defence technologies. The meteoric rise of entrepreneurship in other sectors has not touched the defence industry even remotely. The ones existing in the country today have been struggling to survive the unfavourable business atmosphere of the defence sector. This has created a huge problem in establishing a vibrant defence industrial base and achieving technology self-reliance. As a result, the country with fourth largest armed forces spends about 40% of its total defence budget on capital acquisitions, of which 70 percent is imported, making India a net importer of security and vulnerable to technology denial and sanctions.
There are few reasons to explain this phenomenon. Firstly, indigenous product development is a time consuming process, which involves a steep learning curve. Defence being a highly technology centric and investment driven sector, does not offer immediate returns like say an e-commerce or Food-tech venture. Secondly, the sector has always been perceived to be an exclusive club of DPSUs and Ordnance Factories, with only few big pocket private industries actively participating, resulting in start-ups giving a pass to the sector. Multiple indicators also point to the high gestational period, lack of 'ease of doing business', complex policies, non-alignment of aspirations vis-à-vis capability and general trust deficit between government and industry as the reasons for this no-show. Such handicaps hamper the process of indigenous capability development by start-ups. It is therefore imperative that we find a resolute solution to these problems and means to enable flourishing of defence technological base in the country. 'Make in India' is one such enabler, which has the ability to both, veer and pivot, the narrative.
How 'Make in India' can Change this
With Defence being recognized as one of the strategic sectors under 'Make in India', this represents a big opportunity for start-ups to venture in this sector. Under 'Make in India', the
government has taken a slew of steps to address the nagging issues, including easing of complex defence licensing procedures, de-licensing componentsand dual purpose items, increasing of FDI cap to upto 100%, providing level playing field to private enterprises vis-à-vis the DPSUs for commercial comparison, and many more. Since the inception of this ambitious national level program, India has leapfrogged to rank 100 amongst 190 countries in World Bank's Doing Business Report 2018, which is a jump of 42 places from its rank of 142 in 2015.
On the procurement side, there is renewed thrust on promoting suo moto initiatives under the new Make II category of programs, and highest priority being accorded to
'Indigenously Designed, Developed and Manufactured (IDDM)' category of solutions.
Adequate emphasis has been laid on enhancing the role of MSMEs in defence sector. Defence Procurement Policy 2016 (DPP) also stresses on increasing accountability and cutting down the timeframes for procurement activities, which is very important for viable functioning of start-ups. The government has also taken some bold steps specially related to single vendor situation and refund of R&D expenditure if orders are not placed, thereby building more transparency and fairness in the system.
Recently, one of the major entry barriers faced by start-ups looking to participate in defence tenders was addressed by the defence minister at the Global Entrepreneur Summit 2017 (GES). She acknowledged that start-ups face problems as under the existing rules companies cannot take part in the tendering process unless they had been in relevant business for a specified number of years or have achieved certain amount of turnover. The government, she said, was taking steps to remove such kind of rules which restricted the entry of start-ups in the tendering process.

The government has also established Technology Development Fund (TDF) to promote self-reliance in Defence Technology as a part of the 'Make in India'. It is a MoD (Ministry of Defence) program executed by DRDO meeting the requirements of Tri-Services, Defence Production and DRDO. The scheme will cover funding through provision of grants to industry that may work in collaboration with the academia or research institutions to carry out innovation, research and development and such chosen entities will be referred to as Development Agencies (DAs). The scheme encourages participation of public/private industries especially start-ups and MSMEs so as to create an eco-system for enhancing cutting edge technology capability for defence application.
It cannot be denied that 'Make in India ' is helping to lay the foundation for making the market and environment conducive for enabling an active start-up boom in defence sector.
Way Ahead
Technology start-ups are the new face of India and are successfully enhancing its technological prowess in hitherto unchartered territories. The future of defence ecosystem is technological innovation and there is surely a huge demand for such start-ups. The time is opportune for them to tap the unsaturated defence sector. With the defence budget for 2018-19 pitched at a whopping $43.4 billion, there is plenty of room and business for all and tremendous scope to grow domestically and transcend boundaries too. Being part of the defence industry also provides an indirect opportunity to serve the country and actually doing something for our deserving armed forces and giving back to nation. Over the last few years, we are seeing some traction with the emergence of defence specific start-ups providing innovative solutions for our armed forces in areas such as night vision systems, hemostats, UAVs, drones, robotics, digital sand models, etc. There is also a rise in incubators like Kalyani Group which has established 07 technology incubation centres and R&D hubs to aid development of defence systems.

The top Indian start-ups of today are a result of persistence, and the same is also true for defence sector. One needs to break the inertia, identify and fill in the technological loops with innovative and out-of-box ideas, have a clear longevity of vision, ability to adapt quickly to changing needs of an atypical customer, and most importantly patience, for becoming a sustainable defence start-up. Cue should be taken from Israel which presents a perfect amalgamation of military technology and innovation, stemming primarily from start-ups, and which has allowed Israel to become an advanced, high-technology global centre for defence application in the face of geo-political and geographical hardships.
The government on its part needs to continue with the momentum, follow 'Make in India' in letter and spirit, hand-hold, and act as a catalyst to help start-ups cross the inherent entry level barriers specific to this sector. Start-ups deliver innovations that are disruptive and deliver them faster. The government should therefore adopt a
long-term approach to further cement policy regime that would encourage India's best brains and entrepreneurs to enter the field of defence production and promote innovation, efficiency and cost cutting.
Under the combined rubric of 'Make in India' and 'Start-up India', the defence sector is poised to become the new sunrise industry for start-ups, thereby clearly providing a huge fillip and new character to the Indian start-up ecosystem. The ultimate aim however, should be to establish a robust defence industrial base with focus on developing indigenous technology, thereby achieving self-reliance and self-sufficiency, and reducing the abysmal dependency on imports which has been plaguing our nation for long. A nation with a strong defence industry will not only be more secure, it will also reap rich economic benefits.

Jai Hind.