Man & Machine: Artificial Intelligence is Changing Our Lives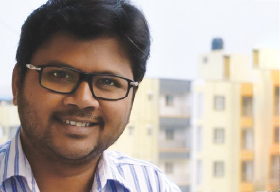 By Abhishek Moharana, Co-founder & CEO, Trilyo
Artificial intelligence, or AI, is the reality and is a growing part and parcel of our everyday lives. From voice-controlled assistants, online ordering to self-driving cars in development for the imminent future, AI is nothing but the brains behind computer software! As we see the applications of AI, a perennial question always cross our mind and that's-- is this super technology a threat? And the answer is a NO! In a research, Adobe discovered that 47 percent of digitally mature organizations, which are those with advanced digital practices, have a defined AI strategy.
We know humanity is moving forward at great strides or at least at the technological level for sure. No aspect of our lives goes without technology touching it somehow, either for better or worse; and we're only in the nascent stages! So the proper question to ask is-- what's in store for the future? Did you know, according to Adobe, only 15 percent of enterprises are using AI as of today, but 31 percent are expected to add it over the coming 12 months. AI also plays a pivotal role in customer service; saying that Page says, about 38 percent of consumers believe that AI will improve customer service in the future.
According to BrightEdge, the next big marketing trend is seen as being consumer personalization 29 percent, followed by AI 26 percent. While AI and robots are not new, it has taken quite some time to develop them. While the latest robots can now emulate the actions and movements of a human, the next challenge definitely lies in creating an autonomous, self-thinking robot that can react and actually adapt to any changing situations. Investment into AI startups by venture capitalists has soared sixfold since 2007, per Adobe. Artificial intelligence have promised to render machines the ability to think analytically by using advancement and concepts in the field of computer science, mathematics, and robotics. Once they are perfected, nothing will be the same! Now, let us see how artificial intelligence is and will affect our lives to a greater extent.
Accurate Weather Prediction:Predicting the weather conditions accurately can be tricky at times, especially when you have to go through large volumes of raw data; but thanks to artificial intelligence, the current situations is going to change sooner. The app/software will be able to sift through all the available data and then get a better and crystal-clear picture of approaching weather phenomenon and issue the corresponding early warnings, thus saving numerous lives on the go. Around the globe, weather monitoring robot imports have increased from around 100,000 in 2000 to roughly 250,000 in 2017, according to IDC.
The artificial intelligence software will also help farmers and prevent forest fires. Recently, NASA is developing a program that can help aircraft dodge potential storms and danger spots, increasing air safety and will come to picture by early 2020s.
Self-Driving Automobiles: Of all the advancements in AI technology, the self-driving car or an autonomous vehicle is one of the most popular things to talk about amidst common people. Nowadays, every vehicle on the road has to have a driver behind the wheel but we're approaching closer to the time where AI will take over this job and all we will have to do is sit in the car as we're driven to our destination! It's an exciting prospect for numerous enthusiasts, although there are several concerns regarding safety; after all any machine can malfunction. But as the time is passing many scientists are trying to develop more accurate sensors so that any real-time crisis can be averted. It's predicted that, in 2050, autonomous cars will represent 100% of the vehicle fleet in the world.
Automating Chores: One of the earliest daunting promises of AI described in science fiction from Isaac Asimov to the Jetsons were sentient robots that could perform household chores and eliminate the drudgery from the workplace! This promise has been fulfilled in part by the programmable robotic vacuum cleaner in your home, which can maneuver around obstacles like stairs, furniture and even your pet cat. These robots will not only clean your living room and do the dishes, but may also tackle jobs like assembling furniture or caring for kids and pets. Facilities with large lawns, like golf courses or football stadiums, rely on similar technology to mow their lawns thus eliminating human labor and make them to utilize their time for some other priority works.
Space Exploration: Artificial intelligence and robots will play a major role in space and travel exploration in the impending future. Did you know, NASA already depends on rovers, unmanned shuttles, and probes to explore distant galaxies that would take years for humans to reach? Autonomous land-rovers have recently given scientists and explorers a treasure trove of data and photographs collected from the Martian surface, where inhospitable conditions make human exploration impossible! According to NASA, AI provides 45 percent support to their activities regarding space research. These smart vehicles can easily sense obstacles-- like craters, and find safe paths of travel around them by circumventing before returning to the shuttle. AI technology will also help scientists react more quickly to emergencies during manned flights by allowing space-borne astronauts to spot and prevent problems before they happen.