Technology: A Game Changer for Interior Design Industry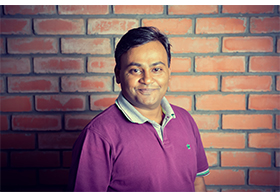 By Sharad Wankhede, Co-Founder & CTO, Design Cafe
The market size of the Interior Design industry in India is estimated to be Rs 20,000 crore. For the past few years, it has beengrowing at 20-30% annually and the growth rate is expected to continue. These are conservative estimates. It is mostly an unorganized market. Typically, a home owner would employ an architect or an interior design consultant for designing the interiors, who in-turn works with carpenters for production and installation. The design-to-installation chain, that way, is fragmented and involves a lot of players from the unorganized sectors.
The customer expectations have evolved over time. Today, customers are well informed and savvy. They are well travelled and have exposure to cosmopolitan culture. They spend substantial amount of time on researching interiors online and are well informed. They are aspirational and want their homes to be not just functional but in-tune with their personalities. Their home is reflection of their life-style. They are not happy with cookie-cutter approach to their home interiors but want personalization. They are busy and desire the convenience of a one stop solution. And they expect all of these in their budget.
Technology can be a game changer for this industry. Over the last few years, there has beenan emergence of organized players that are leveraging technology to offer superior quality products and services to customers. Technology has a major role to play in improving customer experience from design to delivery process. It also can be the catalyst for improving productivity and efficiencies internally within the organization.
Interior design organizations need to be customer centric to be both relevant and competitive. Leveraging 'business moments' is crucial. There are several 'business moments' that offer an opportunity to engage meaningfully with the customers. For example, company's website could be the first point of interaction.
A sleek and well-structured website that showcases wide range of styles and designs for various rooms, provides a quick cost estimate, enables a real time interaction and explains the offering transparently and succinctly is more successful in engaging a potential customer. Virtual Reality is a great tool to explain the design concept to a customer. Rather the customer gets to experience the design virtually much before production is initiated. A 3D view can be projected in the virtual space using VR headset that immerses customers into 3600 view of their homes. It becomes a medium of visual language through which a designer can walk the customer through all the design elements and can explain how the design delivers what the customer has asked for. It offers an opportunity to the customer to give feedback. It bridges the gap between how the customer has visualized her home to be and how it's taking shape.It can be a great sales tool too.
A technology-based tool that is integrated with the website or otherwise can be used to provide frequent updates to the customer during the progress. It builds credibility into the whole process and keeps the customer engaged.Augmented Reality is cutting-edge technology that can be leveraged by Interior Design companies. The technology allows projection of virtual objects in the physical environments. The application of this technology is limited only to one's imagination. IoT is another cutting-edge technology that companies could leverage to create unique offerings for customers.
As the above examples have articulated, technology can be used to elevate the customer experience and enhance the offering. At the same time, technologycan have a significant impact on the internal processes of the organization.An ERP implementation can streamline thebusiness processes. In a typical Interior Design organization, as the project progresses, the work flows from one group to another. For example, a marketing/sales team is responsible for generating leads and signing-up customers. They pass on the customer details to the design team that then interact with the customer to create designs which are then handed over to the project management team to initiate factory production. Other groups like customer services team, procurement and accounts are involvedat various steps. Thus, there's a lot of coordination involved and ERP can be an effective solution. Not just within the company but ERP can streamline the interfaces with external vendors. Processes thus become technology driven rather than being person dependent. It also facilitates creation of MIS for informed decision making.
Technology tools for requirement collection, cost estimation, proposal creation etc. help improve team productivity, maintain consistency and transparency. Technology could be leveraged to automate several steps of design-to-installation process and thereby reduce human error, improve profitability and improve customer satisfaction.
Technology is bringing the companies closer to customers and enabling them to offer better experience, services and quality products. Technology is accelerating the change internally as well thereby improving productivity and reducing cost. The Interior Design industry is at the cusp of technology led transformation. Current technologies and those that will be mainstream in the near future will change the face of this industry. The process has already begun.