THE DNA of HR Analytics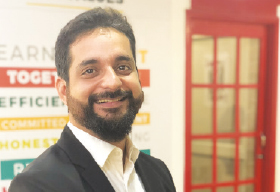 By Manas Gulati, Co-Founder & CEO, #ARM Worldwide
"Today, HR has a seat at the table, and in order to maintain that business partnership, you need to have an analytics framework." – Andy Kaslow, CHRO, Cerberus
On the surface of it, the concept for Human Resource & Analytics seems quite different and unconnected. However, on a closer inspection, they have belonged together all along. Here are three broad topics we can expound upon, to help you understand exactly how.
Understanding
The first question that comes to everyone's mind is something that most people in this field don't have an exact answer to – what essentially does HR analytics entail? Odds are that asking two different experts about HR analytics will garner two different responses – both of which will be correct in their own ways.
HR analytics refer to the integration of analytical processes with the function of the human resource department to augment the existing business processes. It is done by gathering data from multiple sources and extensively analysing it to understand which business measures have been successfully implemented, while also pinpointing the pain areas that need to be worked upon.
A significant reason for integrating analytics with data is because analysts can glean a multitude of answers and insights from it, which allow them to predict and direct the company's future operations judiciously. It makes a massive difference when it comes to the functionality of the HR department – data analytics can help in gauging individual employee performance, measuring collective productivity, and checking whether the organisation's quotas are being met.
Requirement
Before we get into details, let us list out some of the major issues that the HR industry faces:
57 percent of organizations view employee retention as a problem.
22 percent of new hires leave their jobs within 45 days of being hired.
46 percent of new hires fail and are let go from their jobs within 18 months of being hired
Only 11 percent of people are let go due to a lack of skill, while 89 percent are for reasons of motivation and lack of 'coachability.'
Perhaps the best way to illustrate the requirement for HR analytics is by quoting Carly Fiorina, the first woman to lead a Forbes Top-20 company. Serving as the CEO of Hewlett-Packard from 1999 to 2005, Fiorina had the following to say about data analytics:
"The goal is to turn data into information, and information into insight."
The volume of data generated in an organisation related to its internal processes is massive, and HR analytics aim to collect this data and compile it into an interpretable format so as to contribute to the value addition of the business.

It's crucial for the HR department to align with the business strategy and familiarise themselves with the goals and objectives of the organisation – a sentiment that's echoed in the Jenny Dearborn (Chief Learning Officer at SAP) book, Data-Driven. By doing so, the HR department will be able to ask – and subsequently answer – two crucial questions that will dictate the future growth of the organisation; what business problems can be solved to meet these objectives and how can we enable, train, and support employees to achieve these overarching business goals?
Implementation
First and foremost, the HR department needs to be properly acquainted with the current business processes so that they have a proper idea of how the business works and what areas need more work. By experiencing first-hand how the business works, members of the HR department will gain the knowledge, skills, and abilities to perform data analytics efficiently.
Another step that most organisations tend to overlook is that there should be a proper sync between the IT and HR departments. After all, analytics is extremely technical, and the HR department should have a basic understanding regarding the 'how' and 'why' of the data being collected so that the interpretation of this data can be carried out to a T.
The selection of the HR analytics tool(s) is something that requires careful thought and consideration. After all, one of the most prevalent problems faced in most organisations – regardless of the industry vertical they function in – is that the HR department isn't comfortable with the concept of analytics, metrics, and data. And crucial details slip by, unnoticed.
Most experts generally narrow it down to two viable options in this regard – RStudio and Python. While the former is considered to be superior when it comes to statistical analysis and visualisation, the latter is one of the most popular programming languages around, and there's a pretty high likelihood that your IT team is already familiar with it. So, weigh the pros and cons of both options and figure out which tool will adequately suit your business needs.
Therefore, a three-way partnership between HR, IT and the business function is critical to ensure the effective implementation of HR analytics in the organisation. This will allow for a higher level of control over the business strategies and help ensure maximum level of productivity in the organisation.