Electric vehicles are contributing to the transportation sector's long-term development and sustenance. In recent years, electric cars are becoming mainstream and can be powered using home grown and renewable energy sources thereby reducing the worldwide dilemma of oil dependence. There has been an increase in the shift to electric vehicles because the power required to charge an electric vehicle is less than the cost of gasoline for the same distance traveled and of course, the zero tailpipe emissions factor plays a major role here too.
To address this growing demand, reliable EV charging technologies in terms of easily accessible charging stations are needed now more than ever. These electric car charging stations provide electrical power for charging plug-in Battery Electric Vehicles(BEVs). There are mainly two charging technologies: Alternating current(AC) charging, used mostly in residential/ office spaces to charge BEVs at slow charging speeds, are generally considered Level 1 and Level 2 chargers typically ranging between 1.3kW to 19kW, and Direct current(DC)chargers, where most batteries are charged without needing an AC to DC conversion, are considered as Level 3 and can charge batteries at a faster rate typically ranging between 24kW to 350kW. SAPTHAVAHANA, named after the sun god's chariot aspires to propel the adoption of sustainable mobility by offering India fast AC and DC charging solutions.
Like any other customer-centric organization, SAPTHAVAHANA designed its services by keeping customer experiences in mind and offers EV owners round the clock technical help in addition to the convenience of an IOT
-based, one stop shop solution mobile app through which they can check the charging connector availability, initiate/end a charging session, monitor the charging behaviours and paying for the charging sessions. Additionally the technical and business teams at SAPTHAVAHANA is well-positioned to provide a total EV charging solution with comprehensive end-to-end installation and maintenance services.
Emphasizing customer and market needs
"I'm a Mechanical engineer with new product launch experience with several Automotive component manufacturers and had the privilege to witness how the United States has transitioned to EVs. With that in mind, I wanted to see the Indian subcontinent experience something similar but at a faster rate than the USA. That is, a consumer might be reluctant to shift to electric vehicles because there aren't enough available charging stations to energize or charge vehicles. Therefore, one must address the issue at its core, to build reliable electric vehicle supply equipment(EVSE) and provide much needed customer support at the charging stations, as doing so will encourage people to embrace electric vehicles with ease. I have established SAPTHAVAHANA to exactly do that", explained Kameswara R Nara, Co-Founder of SAPTHAVAHANA.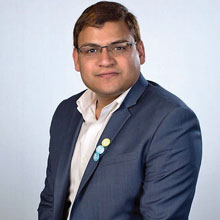 Kameswara Rao Nara, Co-Founder
SAPTHAVAHANA differentiates itself by Installing public fast charging stations in strategic highway locations that can help long-distance travellers/ customers easily access their reliable stations built with dedicated electrical substations. And for providing a clean and safe environment while charging, the corporation has worked on strategies that involve working with reputable hotel chains that are located on national highways. Doing so can solve two issues first, one can increase the charger's uptime, which refers to the charger's dependability; second, one may have a good spot where a customer can hang out while the charging is taking place.
In addition, The company's core leadership consists of a father and son duo as founding members where each bringing their electrical and automotive expertise to the company. The company's vision is to create a network of charging stations, realize economies of scale, slash charging rates, move offgrid (partially) and create an ondemand service. The company's future goal is to provide unique battery swapping services and technology for two-wheelers and three wheelers, which are still under development.