In the last few years, India is considered a land packed with opportunities for players in the healthcare sector, and the market is expected to witness a three fold jump in value terms to reach $372 billion by 2022. The Indian healthcare sector, one of the rapidly growing industries, in terms of the addition of beds/year and the number of admissions/ year has led to the emergence of various challenges that hospitals have to deal with. Some of the key challenges include operational efficiency, marketing & sales, talent acquisition & retention, rising input costs of materials, and pricing pressure from payors. The emergence of these challenges has created a sweet spot in which T.R. Lifescience a hospital consultancy firm is well placed to address. The company's towering success in the industry within a short span of one year is based on its encompassing range of products such as gastrointestinal therapy, pain management therapy, respiratory therapy, haematinics, calcium supplements, nutritional/vitamins, and others. Today, it is operating and managing 1000+ beds across North India and Nepal and offering solutions to a diverse client base ranging from individual doctor promotor to corporate hospitals.
T.R. Lifescience made its debut in the year 2018 with a mission to offer total customer care by delivering world class products and services. The company is focused on sustaining the market share, fueling the growth engine through product innovation and strategic growth initiatives, and increased presence in the Indian market, towards achieving its vision of becoming a significant pharmaceutical player. While most of the healthcare startups limit themselves to specialize in one or two aspects of healthcare management, Delhi NCR based
company is going the extra mile to offer a comprehensive healthcare management solution and services. With its products enjoying a significant market share in the respective segments, it is aiming to be among the top 50 pharmaceutical companies in India.
T.R. Life science has established global footprints and is also aggressively expanding other verticals
Architect Behind
T.R. Lifescience was founded by renowned healthcare industry professionals who have over two decades of individual experience in the fields of hospital projects & operations, hospital accounts, and finance. These veterans have taken onboard experts from the other important fields of HR, IT, sales & marketing, and quality. The founder's industry standing, and relationships have helped attract the right talent, which has further led to tweaking and strengthening of the business model. Dr. Gopal Sharan, CEO & MD, T.R. Lifescience leads the team from the front and gives everyone a free hand to manage and execute the tasks that they have been individually assigned to. For providing a comprehensive solution to the client the team members work with each other and support each other in ensuring that the deliverables are fulfilled on time. At the implementation level,the comprehensive experience of Mr. Vinay Gupta, Director Finance, T.R. Lifescience comes in handy and he guides the team through various issues and challenges, which they are facing.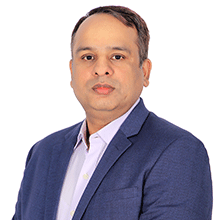 Dr. Gopal Sharan, CEO & MD
Challenges & the Opportunities
Lack of comprehensive understanding of all aspects of healthcare management including planning, designing, commissioning, talent acquisition, systems & processes, quality, and marketing & sales are some of the roadblocks, which the healthcare industry is currently facing. Thus, to stay a step ahead of the game, T.R.Lifescience is addressing them by creating a platform where leading industry experts have joined hands to provide comprehensive solutions to its esteemed clients. Marching forward, the company has shown tremendous growth in terms of adding clients and generating revenue. It has established global footprints and is also aggressively expanding other verticals like funding for hospitals, healthcare IT projects and manpower planning, and acquisition for the hospitals.