Re-imagining Freight Forwarding In The Digital Age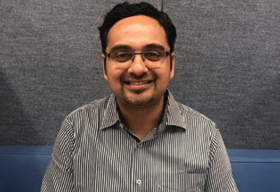 With more than 12,000 employees and 70 offices around the globe, SapientRazorfish is a new breed of transformation partner designed to help companies reimagine their business through radical customer-centricity.
Today, while it's easier to plan our personal travel (oversees or otherwise), exporting products over the same route is still a complicated task. Shippers usually rely on the services of freight forwarders in obtaining custom clearances, preparing necessary documentation, procuring cargo insurance, warehouse packaging, selecting carriers and arranging shipment.Despite the humungous scale of global trade that runs into trillions of dollars annually,the experience of shippers is very cumbersome. According to a research conducted by Freight's, only a handful of top twenty freight forwarders provided instant door-to-door quotes online. Features like instant quotation, efficient document management, single platform for all interactions and real-time tracking, are not very common with traditional forwarders.
This is clearly a diversion from the slick experience that consumers have become habituated to in their everyday interaction with the likes of Google, Apple, Facebook and Amazon. Eventually, consumers will be demanding such experiences in business environments as well. Freight forwarders, thus, need to look at improving the experience of shippers and start investing in digital technologies including big data analytics, cloud solutions, robotics, and blockchain, among others that have the potential to make a significant impact across the value chain of freight forwarders. Some recent startups and major incumbents are applying these technologies to improve customer experience and make the processes more efficient.
Who are Those Emerging Players?
Powered by advances in data and analytics, Flexport provides a digital platform where shippers can manage all their international shipping needs. With the view to fix the price transparency issue, Xeneta focuses on providing real-time information on container rates and available capacities to help shippers make better decisions on choosing providers. The platform also gives an opportunity to freight forwarders to compare rates against competitors.
Improving container utilization has also caught the attention of technology-driven startups. Avantida's platform allows transporters to reuse containers in order to optimize container moves from the import to export side. This facilitates optimum container utilization by dynamically matching supply and demand.
The blockchain is another technology that is set to play a major role in providing real-time visibility to different stakeholders in the international shipment. A key application of blockchain explored currently is digitizing the bill of lading, which is a legal document between a shipper and a carrier that details the type, quantity, and destination of the goods carried. Slovenia based CargoX is developing a blockchain based bill-of-lading system that would replace paper bills of lading and claims that such a system can save logistics companies roughly $5bn annually, globally in courier services.
The Amazon Threat(or opportunity)
Big technology giants, like Amazon and Alibaba too are taking interest in this sector. In January 2016, Amazon received clearance to coordinate cargo shipments between China and the United States, effectively putting it in competition with freight forwarders. If Amazon's past performance is any indicator, it could go all out in streamlining the shipper's experience and potentially launch freight forwarding as a standalone business. Parallels to Amazon Web Services may be a bit far-fetched, but Amazon's growing interest in the logistics and supply chain space, which also includes building a vast air cargo hub in Cincinnati region, has definitely caught the attention of the incumbents.
Similar is the case with Alibaba which collaborated with Maersk, the world's largest container shipping line to allow its customers to reserve space on the latter's vessels through One Touch online platform, thereby bypassing freight forwarders.
Incumbents Taking Action
A few traditional freight forwarders have also taken concrete steps. Using data and technology to improve customer experience and efficiencies has become integral to strategies of several leading firms including Maersk, Kuehne + Nagel and DHL.
Efficiencies is logistics and supply chain industry is vital not just for incumbents and customers but for overall global progression as well
Damco, the freight forwarding arm of Maersk, launched Twill in April 2017 to facilitate instant quotations, real-time tracking and integrated documentation management. Ship a Freight is another digital platform by Agility that primarily focuses on optimizing the experience of Small and Medium Enterprises. Similar examples include FreightNet and SeaFreight from Kuehne + Nagel and Saloodo from DHL.
Digital technologies led by robotics, automation and augmented reality are finding applications in improving warehouse operations. GEODIS's staff wear exoskeletons(an external smart brace) to support and protect their backs. DHL among others is trialing the use of smart glasses to make the order picking process more efficient.
IBM and Maersk are collaborating on the blockchain front with the vision of digitizing and automating paper-based filings by enabling end users to securely submit, stamp and approve documents across national and organizational boundaries.
Collaboration is the key
Only a sustained commitment towards innovation and customer centricity will reap rich dividends for freight forwarders. Collaboration across the value chain with customers, government agencies, technology partners and even startups providing competitive services will be the key.
" Efficiencies is logistics and supply chain industry is vital not just for incumbents and customers but for overall global progression as well"
• Customer obsession:
Companies need to shift their approach from a process driven mindset to creating a customer first culture, where the customer convenience is at the heart of all decisions.. Building the right skills is also vital, either in-house or in partnerships. Kuehne + Nagel's leadership has a clear goal of improving customer experience through technology. In particular, it is hiring process engineers and data scientists to work with existing staff.
• Data & analytics capabilities:
Data availability is likely to increase, especially as digital platforms become popular. Moreover, with the proliferation of sensor-enabled devices and IoT, transport vehicles, containers and even warehouses will generate huge volumes of data. It is imperative that freight forwarders strengthen their analytics capabilities by providing real-time updates and personalized insights to customers will be significant differentiators.
• Empowering employees:
Educating staff about the benefits of emerging technology solutions is vital to stimulate creativity. Moreover, adopting digital technologies to streamline internal functions and providing a great experience to internal employees can encourage them to offer even better experiences to their customers.
• Partnerships and investments in startups:
Collaboration with selected startups can be a rewarding way to bring about innovation quickly. Traditional companies stand to gain a lot from the agility and innovative culture of these startups. At the same time, startups benefit from the scale and distribution prowess of large established players, creating a win-win situation for both. DB Schenker's USD25mn investment in online freight booking platform uShip Inc. shows that even freight forwarders are thinking on similar lines.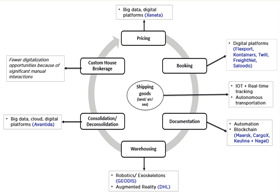 • Ecosystem collaborations:
For large-scale optimization in international trade, various players in the ecosystem need to collaborate. Logistics firms can take the lead in this and involve shippers, regulators, custom houses and ports in the transformation journey. For e.g. when Maersk initiated the process of paperless trade using blockchain, it roped in shippers like DuPont, Dow Chemical and Tetra Pak, Port Houston, Rotterdam Port Community System Portbase, the Customs Administration of the Netherlands and U.S. Customs and Border Protection. Further, cooperation across competitors can facilitate setting of industry standards and effect large-scale transformation.
Efficiencies is logistics and supply chain industry is vital not just for incumbents and customers but for overall global progression as well. According to the World Economic Forum, reducing barriers in global supply chains could increase worldwide GDP by almost 5% and total trade volume by over 15 percent. Given the complexity of the freight forwarding ecosystem, not all processes can be fully automated or digitalized. Nevertheless, companies that put in persistent efforts towards customer centricity and digitalization are likely to gain significantly as well as contribute to making global trade seamless.